Managed services are technology-related services and solutions that are customized for government agencies. As a managed service provider, SLS GovTech offers specialized technology to help government organizations efficiently manage their IT infrastructure, applications, and digital services. Our managed application services are particularly critical in helping government agencies deliver better services to the public by improving their IT environments.
Our team of managed services consultants are highly trained and experienced professionals. As an implementation and consulting firm, we provide cutting-edge technology and services that involve proactive and ongoing oversight of specific IT functions, infrastructure, or business processes on behalf of our clients. Our IT consultants are committed and among the best in their field. We focus on helping businesses optimize and maintain all aspects of their agency's services.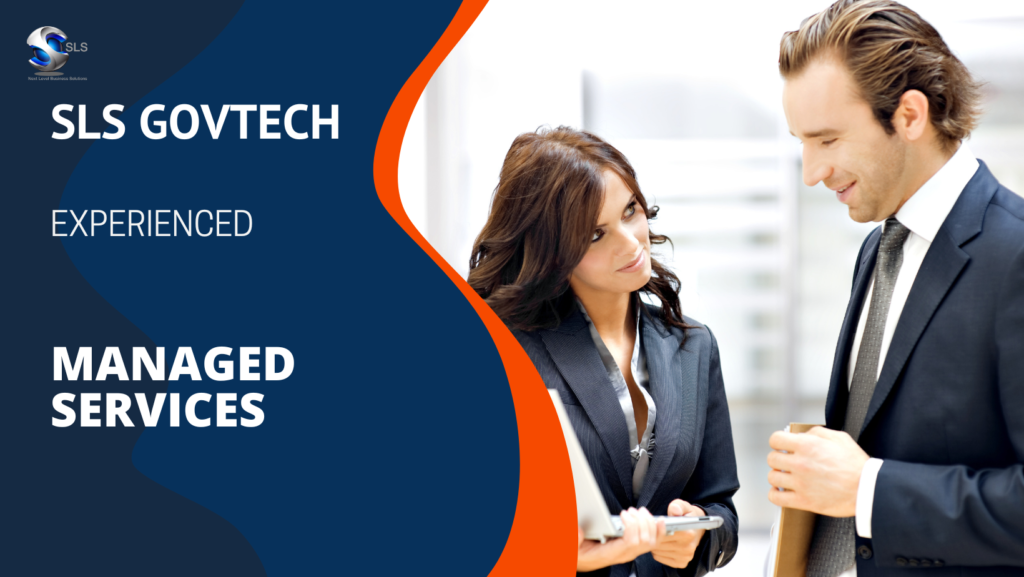 Managed Application Services can take on many administrative tasks and ongoing functions critical to agency IT operations, including:
Testing new major releases, service packs, and fixes
User account administration and permissions management
Forms modification and deployment
Report creation and testing
Functionality augmentation and scripting
Troubleshooting conditions
Configuring new features.
What is Managed Service?
SLS GovTech provide's organizations with a proactive and outsourced approach to addressing specific aspects of their IT infrastructure, business processes, or other functions. The goal is to ensure these services run efficiently, securely, and cost-effectively, freeing the organization to focus on its core business activities.
How it Works
First, Assessment and Customization:
Needs Assessment: The process starts with a detailed assessment of the organization's IT and operational needs. In addition, the assessment involves understanding the organization's goals, existing systems, pain points, and specific requirements.
Service Customization: As a provider, we work with your agency to tailor services to meet your organization's unique needs and challenges. This often involves defining the scope of services, service level agreements (SLAs), and expectations.
Next, Implementation:
Onboarding: Once the scope of services is defined, we manage the specified functions or systems. The solution can include managing IT infrastructure, network monitoring, security, or other services.
Technology Integration: If necessary, we integrate tools and technologies into the client's environment to monitor and manage the systems effectively.
Third Step, Proactive Monitoring:
24/7 Monitoring: The managed service continuously monitors the client's systems, applications, and networks. Additionally, we use specialized tools to detect issues or anomalies in real-time.
Alerting and Response: When an issue is detected, our team is alerted and responds promptly to address the problem. This fix can include resolving technical issues, applying patches, or taking other necessary actions.
Fourth, Maintenance and Support:
Ongoing Maintenance: As your provider, we will perform regular maintenance tasks, such as software updates, hardware maintenance, and security patches, to ensure the client's systems remain operational and secure.
Most Importantly, Security and Compliance:
Security Measures: Our team focuses on ensuring the security of the client's systems and data, implementing cybersecurity measures, conducting regular security audits, and responding to security incidents.
Compliance: They help clients adhere to industry and government regulations and standards, ensuring their systems and operations comply
Reporting and Communication:
Regular Reporting: As a managed service provider, we provide clients with regular reports on the health and performance of their systems, as well as any incidents, resolutions, and recommended improvements.
Communication: Effective communication is maintained to keep the client informed about the status of their systems and any potential concerns.
Critically Important, Scalability and Optimization:
Scalability: As the client's needs change, we can scale our services up or down to accommodate growth or changes in demand.
Optimization: The managed service provider continuously seeks ways to optimize the client's systems, improving performance and efficiency.
Finally, Strategic Planning:
Consultation: Managed service providers often plan strategically with clients, helping them align their technology with their long-term business goals and growth strategies.
In essence, managed services work by transferring the responsibility of managing specific functions or systems to a specialized service provider. We then delivers these services efficiently and proactively while allowing the organization to focus on its core objectives. To summarize, this approach reduces downtime, improves security, controls costs, and enhances overall operational effectiveness.
At SLS GovTech, we offer Managed Services to handle specific government operations and services. As your provider, we take complete responsibility for the operations or services, providing a complete solution to meet the government agency's needs.
Our Government Managed Services cover a wide range of areas, including IT services, network and infrastructure management, security services, cloud computing services, data management, application development, and more. We manage the technology and processes required for these services, allowing the government agency to focus on their core business objectives.
We offer a subscription-based model for our services, providing ongoing support and maintenance. This service is cost-effective and an efficient way to manage complex operations and services. By outsourcing this to SLS GovTech, you can reduce your overhead costs, improve efficiency, and focus on core competencies. Our Managed Services help agencies stay up-to-date with the latest technology trends and industry best practices.
How Does Our Managed Services Benefit Government Agencies?
Cost Savings
Improved Efficiency
Better Focus On Core Mission
Access To Specialized Expertise
Up-To-Date Technology
Best Industry Practices
Increased Scalability
24/7 Monitoring
Prompt Assistance When Issues Arise
Improved Security
Solutions To Operational Challenges
Overall, our services have become an integral part of modern business operations, enabling organizations to harness the full potential of technology. In addition, our technology services improve productivity, enhance security, and achieve long-term success. Whether in the realm of IT, cybersecurity, cloud services, or other operational areas, managed services provide a strategic advantage. Lastly, our technology offers organizations looking to stay competitive and responsive to evolving challenges the competitive edge.
---
Next Level Government Business Solutions