SLS GovTech announces new advanced technology for government that completely changes how as-built information is utilized for Government agencies. The government uses as-built information in various ways to ensure that construction projects adhere to regulations, codes, and standards and to maintain accurate records of infrastructure and buildings. As-built information refers to the final documentation of a construction project that reflects the actual construction, modifications, and changes made during the construction process.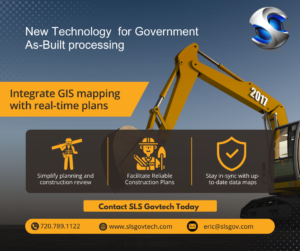 New GovTech for Government
As-built information is essential for government today, though many agencies suffer from poor technology capabilities that ensure this information is tracked correctly.
Why is As-Built Information Crucial?
Adherence to regulatory compliance
Permit Approval and satisfactory inspection completion
Accurate Assessment and taxation
Reliable asset and utility infrastructure data
Emergency Response Planning
City Planning and Development
And the capability to provide accurate public information and transparency.
As-built information is essential data for the Government to track today, yet many agencies struggle to do so as modern technology has not yet provided realistic solutions. This technology inefficiency has resulted in the following:
Incomplete and inaccurate infrastructure documentation
Poor standardization across projects
Delayed or abandoned construction updates
Limited enforcement
Siloed and inaccurate data recordings
Poor communication
And Increased costs due to poor data and processes
Accurate Tracking
Consistent and accurate tracking of as-built data requires technology that has eluded today's leading software platforms and has been difficult for agencies to track and rely upon. SLS GovTech is excited to announce that this issue that has long plagued the industry is no longer an obstacle. By utilizing enterprise software that can be integrated or replace existing platforms, you can now ensure that as-built data is automatically updated in your system both during a project and after construction and inspections are complete. Agencies can now rely on geographic information systems (GIS) to provide accurate and current information. In addition, they can also now utilize contractor CAD information, see infrastructure mapped three-dimensionally above and below ground. Agencies can apply temporal filtering to understand historical, current, and future as-built data. Finally, the technology uses this accurate data in the office, field, and sharing it with the community.
Contact SLS GovTech today to learn more and get a free demonstration of this technology.