GovTech Services Are Critical to Governance.
State and local govtech services (government technology services) refer to government agencies' use of technology and digital solutions. SLS GovTech, a government technology company, provides digital solutions that improve public service delivery and enhance government operations' efficiency. In addition, our govtech services encompass various initiatives and technologies designed to address multiple agency challenges. Our SLS GovTech services provide solutions that streamline government operations, reduce bureaucracy, and automate routine tasks. These digital services also lead to faster service delivery, reduced paperwork, and cost savings for government agencies. To summarize, we specialize in cutting-edge Government Business Solutions.
GovTech Services & Digital Solutions
Digital Identity & Authentication:
E-Government Portals
Open Data Initiatives
Digital Payments
Smart City Initiatives
Cloud Computing & Storage
Cybersecurity Measures
Data Analytics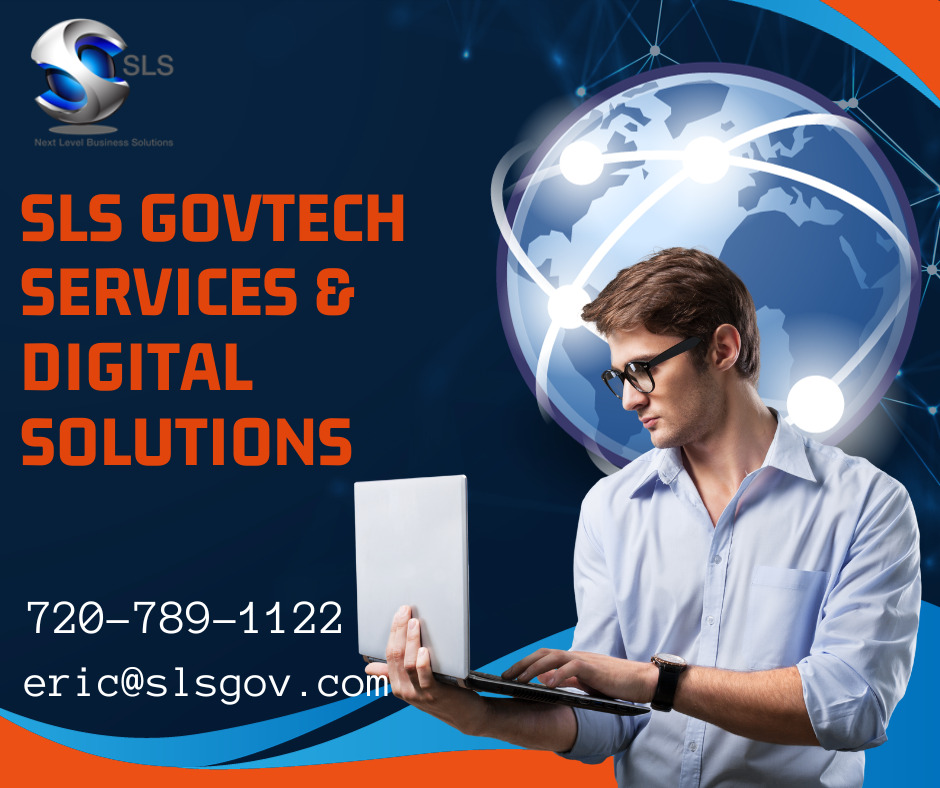 We customize our GovTech services and initiatives to the needs of each client. Services can vary from one government to another, depending on their priorities, resources, and technological capabilities. Most importantly, the overarching goal of SLS GovTech is to harness technology to make your government agency more efficient. In addition, we strive to improve your agency's responsiveness and accessibility to citizens and businesses. Our government technology consultants help ensure personalized attention and service.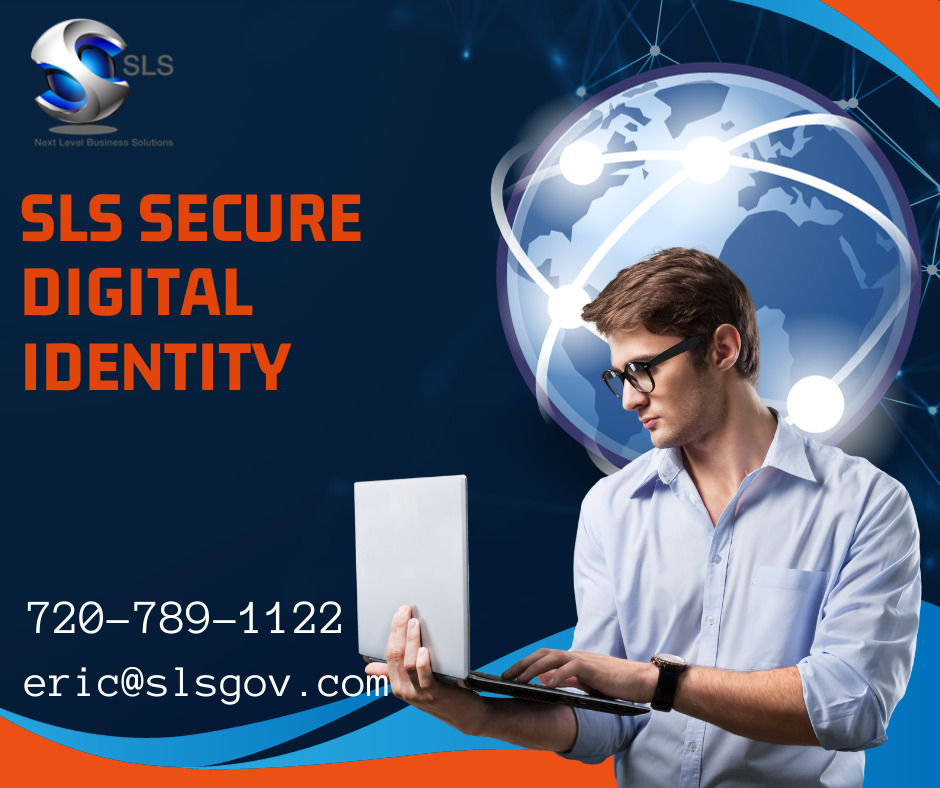 Secure Digital Identity
Two-Factor Authentication
Biometric Authentication
Digital Certificates
Blockchain-Based Identity Systems
SSO
Zero Trust Security Models
Our SLS GovTech services help to develop secure and user-friendly digital identity systems. These systems enable citizens and businesses to access government services online. This includes services like ID and secure login solutions.
We are here to meet the needs of your agency, employees, field workers, and community.
Project Advisory
Project Management
Implementation
Solutions Optimization
Managed Application
Solutions Architecture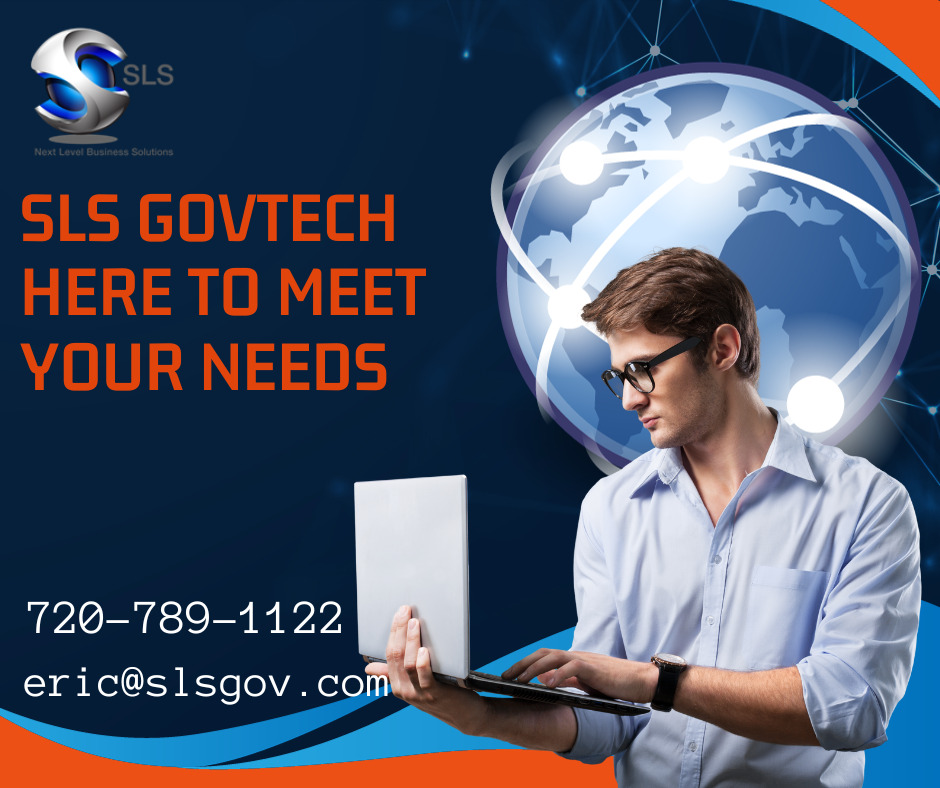 We offer a professional team of in-house resources to provide our customers with a broad spectrum of services. This includes the following ser for a smooth and efficient implementation.
User Account Administration & Permissions Management
Testing New Releases, Service Packs, & Fixes
Report Creation & Testing
User Account Administration & Permissions Management
Troubleshooting
Forms Modification & Deployment
Configuring New Features
And Much More
Administrative tasks and ongoing functions to meet the specific needs of your organization.
More Government Technology Services;
E-Government Portals
E-Government Portals are online platforms. These portals provide a single access point to various government services and information. Moreover, citizens can use these portals to renew licenses, access government data, and more.
Open Data Initiatives
GovTech services open data Initiatives promote transparency and enable citizens, businesses, and researchers to use this data for various purposes.
Digital Payments and Transactions
Our Government Technology company also offers online payment systems. These systems facilitate the payment of taxes, fines, fees, and other government-related payments.
Smart City Initiatives
Our government services also develop smart-city solutions. These solutions include intelligent transportation systems and smart energy grids. In addition, these platforms provide connected infrastructure to improve urban living.
Cloud Computing | Data Storage | Digital Solutions
Modern government technology adopts cloud-based data storage and processing solutions to reduce costs and enhance scalability. Cloud computing refers to computing services over the internet, including storage, processing power, networking, databases, software, and more ("the cloud"). Users can access these services on-demand remotely instead of relying on local servers or personal devices.
Cybersecurity Measures
GovTech agencies invest in cybersecurity technologies and practices to protect sensitive government data and infrastructure.
Artificial Intelligence (AI)
AI technologies can analyze large datasets, automate routine tasks, and enhance decision-making within government organizations. Governments globally are increasingly exploring and deploying AI technologies. This digital technology improves efficiency, effectiveness, and citizen services. In addition, it addresses the challenges associated with ethical, regulatory, and societal implications.
Chatbots and Virtual Assistants

Chatbots and virtual assistants are AI-powered technologies designed to interact with users, provide information, and perform tasks. Moreover, they simulate natural conversation through text or voice-based interfaces. GovTech can deploy chatbots or virtual assistants on their websites. This technology provides instant answers to citizen queries and streamlines customer support.
Data Analytics

Government Technology (GovTech) Data Analytics offers several advantages to government entities. It optimizes decision-making, improves service delivery, enhances public policy, and addresses societal challenges. GovTech Data Analytics provides numerous benefits to agencies. To name a few, it helps to ensure data privacy, security, ethical use, and regulatory compliance remains crucial. Governments must implement robust data governance frameworks. adhere to privacy laws, and maintain ethical standards when utilizing data analytics.
Finally, SLS Government technology services leverage data analytics tools to gain insights from government data and optimize service delivery.
In conclusion, GovTech services and digital solutions offer many benefits, including increased efficiency, transparency, accessibility, and responsiveness. Resulting in a more effective and accountable government that better serves its citizens and promotes economic growth.
The SLS GovTech Team can provide an extension to your in-house system administration team. Our experienced professionals can perform all ongoing administration and forward-looking solution optimizations for our implementation.
Best Government Technology Services & Digital Solutions
​Government Technology is constantly evolving and changing. It enhances both State and Local Governments and is more significant and essential today than ever. ​
Agencies must upgrade to the newest software and platforms to organize their systems. In addition, this digital technology helps to efficiently and optimally serve their workers, contractors, and citizens. ​We offer customized platforms to city, county, and state governments of all sizes with proven ​"Next Generation Software and Platforms."
Government Technology Managed Service
Government Technology Managed Services refer to outsourced technology solutions and support from third-party service providers to government agencies. These services are designed to assist government entities in managing, maintaining, and optimizing their IT infrastructure, systems, and applications.
However, selecting a managed service provider with experience serving government entities is essential. They can help to ensure compliance with relevant regulations and security standards. In addition, they help maintain transparency, accountability, and service reliability.
Reduce your operational costs while increasing your effectiveness by utilizing the SLS Professional Services and Management team.
GovTech Enterprise Platform Development
Government Technology (GovTech) Enterprise Platform Development involves creating, implementing, and managing comprehensive digital platforms. These are specifically tailored for government agencies or entities. These platforms are designed to streamline operations, enhance service delivery, improve citizen engagement, and optimize government processes.
Developing GovTech Enterprise Platforms requires collaboration. This collaboration must exist between technology experts, government officials, stakeholders, and citizens. This ensures that the platforms effectively address the unique needs and challenges of government operations and public service delivery. Lastly, government agencies must have cohesive operational solutions across all departments. This cohesiveness ensures success and provides their communities with timely service.
Electronic Document Management
Electronic Document Management (EDM) is the digital management of documents, files, and information within an organization or business. Additionally, it involves the creation, storage, retrieval, sharing, and secure handling of electronic documents throughout their lifecycle.
Overall, EDM systems play a crucial role in modern businesses. They do this by facilitating the efficient management of electronic documents. Additionally, they enhance productivity and ensure information security and compliance.
Take your Community Development, Licensing, Asset Management, or any other platform to with the document management system of your choice. SLS will show you how.
Digital Solutions & Independent Verification & Validation
Independent Verification and Validation (IV&V) is a critical process within the software development life cycle. It helps to ensure that a product or system meets specified requirements and standards. Furthermore, it involves an independent assessment conducted by a third-party entity separate from the development team. IV&V helps identify issues, mitigate risks, and ensure the quality and reliability of the software or system being developed.
Ensure your project, team, and solutions are optimized by utilizing the SLS professional team. Their experience will help guide, realign, and improve your success.
GovTech Document Digitation Services

GovTech Document Digitization Services involve converting physical documents, files, records, and paperwork into digital formats. This process aims to make government documentation more accessible, searchable, secure, and easier to manage using electronic means.
Overall, GovTech Document Digitization Services are vital in modernizing government operations. They also improve efficiency and make government information more accessible and manageable in the digital era.
Give your team and community improved access to the data. Use the SLS team to scan and digitize your historical artifacts.
GIS Consultation

GIS (Geographic Information System) Consultation involves seeking expert advice and guidance. In addition, you will benefit from the support of professionals knowledgeable in GIS technology and its applications. GIS consultants assist individuals, organizations, businesses, or government entities with leveraging spatial data effectively for analysis. This helps with decision-making, planning, and problem-solving. Overall, GIS Consultation is vital in guiding clients through the complex world of spatial data analysis and technology implementation. Finally, it ensures the effective utilization of GIS for achieving specific objectives.
Your Geographic Information System (GIS) should be at the heart of your enterprise solution. Properly implemented, it will enhance every aspect of your team's experience and your community's experience.
Electronic Plan Review | Technology Solutions
ePlan Review is a process that utilizes digital tools and software to manage, review, and approve building or construction plans. These are plans submitted by architects, engineers, developers, or individuals seeking permits or regulatory authorities' approval. Electronic Plan Review systems enhance the efficiency. Transparency and accuracy of the plan review and approval process in the construction and development industry are dramatically improved. This benefits both applicants and regulatory authorities involved in the permitting process.
Today's Smart Cities are improving how plan reviews are executed. This digital solution saves time, increases communication, streamlines modifications, and builds faster! In conclusion, we will help you understand your options for improving your agency's services.
Enterprise Integration | Digital Solutions
Enterprise Integration connects various systems, applications, databases, and organizational processes. This enables seamless data flow, communication, and functionality across different departments or functions. The goal is to create a unified and cohesive IT environment that supports efficient information sharing and decision-making. In addition, effective Enterprise Integration is essential for modern organizations. It helps leverage technology, optimize processes, and harness data to achieve business objectives. Additionally, it helps agencies to stay competitive in a rapidly evolving landscape.
Let SLS help you develop robust integrations and reduce the silos that are slowing you down. Enterprise Integration platform development saves time and money.
Our professional service teams ensure successful deployment. Beginning with working solutions and iterative collaborative tailoring. We customize for agencies of any size. For clarity, we help you visualize the solutions. Most importantly, we provide responsive, dependable customer service.

As a Government Technology Company, we provide technology products, services, solutions, or consultancy tailored specifically for government agencies. In addition, we provide service to the public sector or governmental organizations at local, regional, national, or international levels. These companies focus on developing, implementing, and supporting technological innovations to address government bodies' unique needs, challenges, and missions.
SLS Government Technology Company is crucial in supporting government entities. We provide tailored technological solutions and expertise to enhance efficiency, effectiveness, and innovation within the public sector.
Once your agency's system is closed to deployment, SLS GovTech professionals can provide valuable services. We offer deep knowledge transfer to ensure you are well-equipped for success.  We can provide ongoing administration, testing, and enhancements as needed.  In addition, we want to make sure that all users can hit the ground running in the new system.  By using our training program, you will have optimal long-term success due to the experience levels of our staff.  Lastly, we recommend SLS GovTech's Managed Application Services program.
Our Mission As A Government Technology Company
"At SLS GovTech, we aim to empower government entities with cutting-edge technological solutions and consultancy. We foster innovation, efficiency, and accessibility within the private and public sectors. Additionally, we are committed to delivering tailored technology services that drive digital transformation, enhance citizen engagement, and optimize governance. Lastly, by harnessing the power of technology, data-driven insights, and collaborative partnerships, we strive to enable governments to address societal challenges. This digital technology helps make informed decisions and improve the quality of public services for the betterment of all communities we serve."